Rothrock Motors, Inc.

                            A story of American entrepreneurship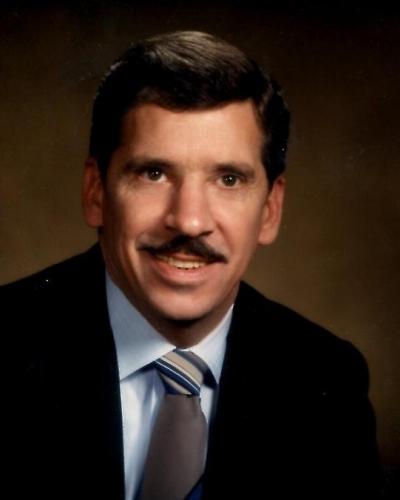 Looking at the sprawling lots of shiny cars surrounding the Rothrock dealership in Allentown, you'd never guess that the enterprise began with the son of a farmer who learned to sell by peddling eggs and chickens door-to-door.  Yet that's exactly how Bruce Rothrock got started.  What doesn't show, however, is the talent for business and personal relationships that came
naturally
 to this Allentown native.  These qualities were the spark plugs that started the engines on this local icon, which over a 50-year period grew into one of the most influential businesses in the area: one that has literally helped shape the economic growth of the Valley itself.
A dream takes root
Bruce loved fixing cars.  So much so, that by age 14, he was working after school at a garage owned by his neighbor Bob Fix.   He appreciated "how hard the Rothrock boys worked," and had Bruce repairing diesel engines among other things.  He spent three years under hoods there until he graduated from Parkland High School and onto a Buick shop in Emmaus, and then to Ford.  All while Rothrock dreamed of owning his own car dealership, and started the wheels turning in that direction at age 20.

His first step toward his dream was leasing a Texaco gas station from Bob Fix in 1960.  The station had two bays for repairing cars, so Rothrock was in his element as a mechanic.  Within two years of building a satisfied clientele, he bought the gas station and then the land next to it, adding additional space for "a complete shop."  The business naturally progressed into used car sales, as customers came looking to Bruce for reliable, affordable transportation. But a complication cropped up.

"Zoning stipulated that I couldn't sell used cars unless I had a new car dealership, so I checked into it and buying a new franchise cost a lot more money than I had at  the time" he said.

Led by an intense entrepreneurial spirit and determination to succeed that were to become the driving forces in his life, he sought out other alternatives.  His search led him to the New York Auto Show in 1962, and to the exhibit of a virtually unknown car brand - Datsun (later to become Nissan).  Because the Japanese car maker was eager to establish dealerships for its virgin brand in the United States, it was offering buyers parts, signs and tools for the unheard of price of $500.

"In choosing a brand to sell, one requirement was that I would be able to fix the cars myself," said Bruce. "Datsun was the only import to be manufactured with a standard, SAE inline 4-cylinder engine, Borg Warner transmissions, and aTisscken rear end."

Bruce was also impressed by the car's engine.  "They had stainless steel valves and piston rings," he says. "I knew they'd go 100,000 miles before they'd need an overhaul or valve job. That's what sold me."

A sales phenomenon
Bruce Rothrock always emphasized the fact that being a mechanic first - not just a salesman - is what built his business, and what continued to make it strong through the years.  This was never more evident than in the early
1960's,
when he turned many of his repair customers into Datsun drivers.  "I was selling the cars because I had a great reputation as a mechanic," he says.  The result was a kind of phenomenal success for his new dealership that got the manufacture's attention all the way across the ocean.

One of only a handful of dealers to be selling Datsun in the United States, Bruce managed to come through with a volume of 40 cars a month - unheard of at any other East Coast location.  The fact that he was so young - only 23 years old - and so successful, intrigued the chairman of Nissan Motors and he invited him to Japan.  The visit was originally intended to be short, with a one-time appearance on NTV, a major Japanese television network.   Instead, Bruce and his wife ended up staying two weeks, doing a string of television and newspaper interviews, and having dinner with the chairman himself at the Tokyo Imperial Hotel after each filmed TV interview.

Growth back home
Once back from Japan, he began to market his business, spurred by Datsun, who asked him to help sign-up new U.S dealers.  Prospects would spend a day with him learning his approach, which helped Bruce define it.  He also started setting up displays at
malls, and organizing "breakfasts for Datsun owners" at City View Diner, where 40-50 people would come out at a time.  On most occasions, closing the sale came down to the same thing: the trust people felt because of his integrity and mechanical skill.  He says his customers would almost say "I won't buy it if you say it's not good."

In the early '70s, Nissan introduced the 240Z, a sports car that, in his own words, "set off the brand."  Sales increased all around, and for him that meant expansion.  He had already purchased a Datsun dealership in Havertown, PA. (Motor Sport) and acquired a Dodge franchise in Catasauqua (later moved to a building in Northampton).  But his little Datsun shop was now too small.

For years, Rothrock had a vision of what his dealership would look like.  He had an architect draw up his concept, which included many efficiencies and total transparency for the customer.  "I wanted lots of glass, so people could see right into the shop while their car was being serviced," he says.  To do what he wanted, he needed at least 15 acres of land - making his proposed building the largest dealership in the area.

The perfect location for his vision was a property at 15th Street and Route 22 in Allentown, which at the time was a drive-in movie theater.  With the theater falling into disrepair, Bruce contacted the property's owner and went to see him.  A long process of relationship building and negotiation over a three-year period finally won him an offer of sale - but the price was more than he could afford.

Never discouraged in the face of achieving his goals, Rothrock sold some of his assets and proceeded to convince his bank to loan him the rest of the money.  But it was done in typical Rothrock fashion.  He had a friend build a model of the dealership, showing the innovations he had envisioned.  However, he designed in a special feature that clinched the deal.

"They gave me half hour to do a presentation," he said.  "I had the model made so that I could detach the roof, and turn it into a Hess's department store, since the trend at the time was to build shopping centers and malls.  I showed them that even if my business failed, they would benefit by financing that building at that location."

Of course, the dealership went on to be one of the most recognized and profitable in Lehigh Valley history, with Rothrock becoming known as much for his business savvy as for his contributions to the community.  Today, a second generation of the Rothrock family are carrying on the tradition.  The formula Bruce Sr. has tried to pass on to them is a blend of basic good sense.

He says it's about "love for sharing time with people," which made it easy to hire and keep employees, a love of learning that grew from "never thinking he knew it all," and a family background where tenacity and hard work were highly valued.

"My father taught us that there's nothing you can't do if you want it bad enough and work for it hard enough," says Bruce, who until the 1990's, still kept hours from 7 a.m. to 10 p.m., with a short dinner break at home.  "I tried not to waste even one day," he says.
Rothrock Motors is a full-service dealership for Chrysler, Dodge, Jeep, Ram, and  Nissan  models. Stop in at Rothrock Nissan or Rothrock CDJR today in Allentown, Pennsylvania!